Yesterday we featured the defense here on our Hoosiers Week preview and that's a good thing because we got the bad vibes out of the way early on, right? I mean watching that 2012 defense was downright brutal at times.
So, it's on to the happier times in our journey to talk everything Bloomington and that's because we are talking about an offense that is clearly one of the most dynamic the Big Ten has to offer – breaking out last season to show what a real group of coaches can do with some decent to better than average parts mixed in with some budding stars.
However, 2012 also created expectations, something this team isn't used to having. If 2013 is going to be a success this offense needs to keep up the level of play it displayed last season. For me, that means the Hoosiers need to answer the most intriguing question of the Big Ten's fall camps – who will play QB1 for Indiana when it opens up against in-state foe Indiana State?
Quarterbacks:
Not since well…. ever has more attention been placed on the quarterback battle for a Hoosiers team. Yes, Antwann Randle-El was an all-time great, but he wasn't battling it out with two other legit contenders and that's exactly what's happening in Bloomington right now and probably throughout most of fall camp.
IU probably isn't used to the embarrassment of riches it has at the QB spot either and that's all do to a bad leg break from Tre Roberson in week two of last season. Roberson had appeared to settle in as a true QB and not a runner with an arm after his freshman season. In two starts last season Roberson had completed a solid 66% of his passes and averaged 184 yards a game passing (to go along with 66 yards a game rushing). Those were solid numbers to say the least.
However, his replacement Cam Coffman did yeoman's work, throwing for over 2,700 yards and recording 15TD's. The one knock on the him was his 11 interceptions on the season. Some of that was due to him being shoved into the role so quickly, but some was also do to him trying to make things happen where they weren't. He also had to deal with splitting time with Nate Sudfeld, just a sophomore seeing his first action in his career in 2012, completed 62% of his passes (51-82) for 632 yards and a 7/1 touchdown to interception ratio.
Kevin Wilson and OC Seth Littrel have a decision to make as to what the identity of this team will be and if it's one that's based off of multiple options than expect Roberson to be the guy that wins the battle, he's got the physical tools and he's shown an ability to improve his passing attack. If they want to air it out all game long than Coffman is your likely winner – they guy can bomb the football. Sudfeld is a great option in that respect as well and just needs to show more consistency in reading the running game to make that jump for me (rushed for just 7 yards last season).
Point of all of this? It's to show you that anyone who thinks they know exactly who will emerge in early July as the winner is giving you pure conjecture – that's how tight this race is.
Running Backs:
Is there a more undervalued but exciting option at running back in the Big Ten than the Hoosiers' Stephen Houston? Personally, I don't think so and a lot of it has to do with who's blocking in front of him. Despite the O-Line's deficiency in the run game Houston managed to rush for 777 yards (4.7 average) and 12 touchdowns.
He's not going to kill you with speed and he doesn't have amazing moves, but what he does do is a bit of everything better than average and that can get you a long way. His best quality is his vision and explosiveness at the line of scrimmage. If you need proof he can get it done on the ground see his 158 yard, 3 TD performance against rival Purdue last year for said proof.
Behind him is the yin to his yang in D'Angelo Roberts, who is a slippery and diminutive back capable of hitting the home run from time to time. He fell off as the year went on last season, so that is a bit concerning and Roberts needs to look over his shoulder as incoming frosh Larry Smith and Darryl Chestnut have some real ability to them. Expect at least one of the two to make an impact this season while the other redshirts.
No matter what this group is light years from where it was entering 2011, when Houston grabbed the job halfway through the season and hasn't looked back since.
Wide Receivers/Tight Ends:
If you're gong to be a pass happy offense you better have a good stable of pass throwers and pass catchers and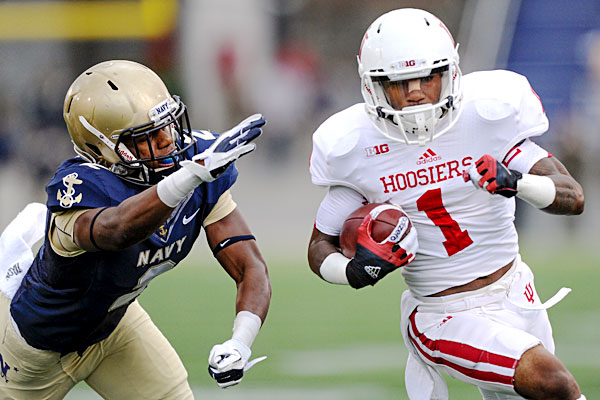 that's exactly what Kevin Wilson has at his disposal. Three returning players who ranked in the top 10 in the conference in both receptions per game and yards per game are back in Shane Wynn, Kofi Hughes, and Cody Latimer.
Latimer received enough votes from our panel to rank No. 17 in our Preseason To 25 Players list and after a sophomore year in which he caught 51 passes for over 800 yards and tied for the team lead with 6 TD's you deserve that distinction. He was 2nd in the conference in receiving yards per game behind PSU's Allen Robinson, yet he wasn't the leader of this Hoosiers team. That distinction belongs to senior Shane Wynn who caught 68 balls for 660 yards and 6 TD's of his own. Throw in the somehow forgotten Kofi Hughes, also a senior, and you have a veteran corp of receivers that know their way around a football field.
Behind that incredible trio of stat sheet stuffers are some very good and veteran options as well in Duwyce Wilson (speedy, but hit or miss if he'll show up), junior Isaiah Roundtree (a great backup complement to what Wynn brings), and Nick Stoner (who fits the Hughes mold of big and deceptively shifty).
Then you add in a nice pass catching tight end option like Ted Bolser, who added 41 receptions of this own last season and you begin to realize that this group of pass catchers is as diverse and good as they come in the Big Ten.
Offensive Line:
If the offensive line's sole task was to pass protect this group would be in the top quarter of the Big Ten, however we all know there are two elements that are important to the success of an offense and unfortunately this group isn't the best run blocking unit in the Big Ten by a long shot.
Hoping to turn that around this season the Hoosiers will look to an anchor in sophomore left tackle Jason Spriggs. Spriggs was hands down the best OL that Indiana had in 2012 and it showed with his name appearing on many postseason all-freshman team lists. Last season he played at 280lbs and held his own, so imagine what Spriggs can do with an extra 20lbs to help him in the rush game department. Opposite of Spriggs is his exact opposite, Peyton Eckert, who is a physical run blocking first type of guy who's progress over the past two years has been tremendous.
Now, to be fair, part of the issues this group had last season was due to a shuffling of the lineup due to injury and two of those injured players look to stay healthy and move to more natural positions in Collin Rahig (center from left guard) and Bernard Taylor (center to left guard). If Taylor stays healthy all season long look for this team to be a much better running team as he's a straight up mauler inside.
The other freshman to start and impress last season was right guard Dan Feeney and if he continues to improve on his good performance to open his Hoosier career we could be looking at a star guard in the making. Behind the starters there isn't much in the way of game day experience and that's troubling, but what little depth they have comes in the form of Jake Reed (who could beat out Rahig at center) and Dimitric Camiel – who's a decent option at right tackle.
Overall this group needs to find a way to mesh the parts each are good at and mask what they are lacking, which can be and most likely will be a tricky proposition. If this unit stays healthy and gels together it could be one of the most improved groups in the conference, but if recent history repeats itself then poor Stephen Houston is in some trouble in that backfield.
Questions to Answer in Fall Camp:
– Who will be QB1 obviously?
– Can a viable long term option emerge at running back from the youngsters coming in to camp?
– Will the O-Line be able to run block at all?