Chances are when you think Northwestern football you think of offense and the likes of Venric Mark and Kain Colter. Chances are that most casual fans couldn't name more than one player on the Northwestern defense. Strangely enough, that may be just fine with this group of underrated and overachieving players.
It's also the side of the ball that could hold the keys to winning a division championship or having the same old, same old disappointment strike again. Some pundits were quick to point out the flaws that this group had last season and no doubt they contributed to being just 5:03 away from a perfect season last year, but blaming them solely for what went down is not only unfair, it also sets up a false narrative that it's not a quality group of players.
As we head to 2013 it'll be up to the eight returning starters to not only improve, but to dispel some of the narrative that has surrounded Pat Fitzgerald's defense. Lest we forget that this was a group that finished in the top half of the Big Ten in scoring defense (5th – 22.5ppg), rushing defense (3rd – 127.6), and interceptions (4th – 14INT's).
2013 will no doubt bring some new challenges to the table, but ultimately the improvement of this group from young and talented to experienced and better could be the difference in meeting championship level expectations or not. Can that happen for this group? Let us explore what the 2013 Northwestern defense has to offer.
Defensive Line:
This group is loaded with pass rushers and disruptive forces, but the worry has to be a lack of size inside. It's part of the reason this defense wore down over time last year but overall this is a deep and talented group that are capable of wrecking havoc on opposing backfields and really that's what the Northwestern defense is all about – being aggressive.
Tyler Scott really came out of nowhere to become a force on the edge as a defensive end last season, erupting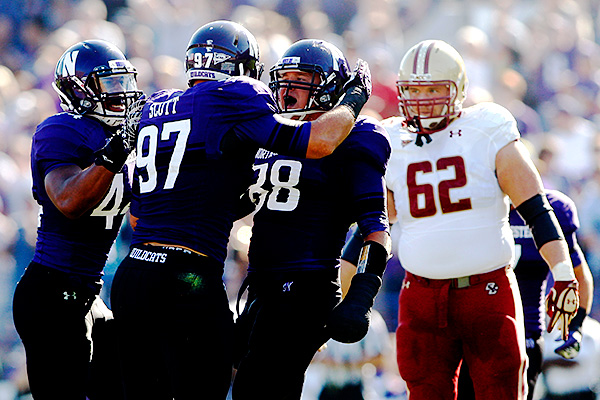 for nine sacks and 12.5 tackles for loss to go along with 42 total tackles last season. He proved his injury to his shoulder is well healed and he'll be counted on to be a big player again in 2013. Luckily, should the worst happen to him there's a talented youngster waiting in the wings in Deontre Gibson who had two sacks and four QB hurries last season in a very limited role as a freshman.
Up the middle is the returning starting duo of Sean McEillvy and Will Hampton who, while not big are aggressive and good at getting into the backfield. Look for Hampton to step up and be the run stuffer of the two and at 285lbs. he's going to need to find a way to hold up physically because he's there only true option to fill that role. McEillvy came into last season as a backup and ended it as a solid starter with 20 tackles and a sack.
Opposite of Scott at defensive end will be Dean Lowrey, who a lot of people think could be the true star of the defensive line come the end of the season. At 6-6 and 230lbs. Lowrey is 100% pure pass rush, leading the team in QB hurries last year with six, also recording 14 tackles and one sack as a backup last season. Backing up Lowrey and Scott will likely be two redshirt freshman (Ifeadi Odenigbo and Greg Kuhar) who, according to various reports, were very impressive in scout team duty and with some experience this season in actual games they'll be
Linebackers:
This group should be a ton of fun to watch this season as it appears Damien Proby has found himself a true
home as a middle linebacker and will be joined in the LB Corp by fellow star Chi Chi Ariguzo. Both have All-Big Ten potential again this season after both were named honorable mention picks by the media last year. Proby found a home in the middle last season and it showed as he led the team with 112 tackles and Ariguzo was active on the outside with 91 tackles to go with 10.5 tackles for loss and 3 sacks and that was in just his sophomore season
Joining Proby and Ariguzo as a starter at linebacker is likely Collin Ellis. Ellis has some major proving to do after recording just nine tackles and a sack last year in backing up David Nwabuisi.
Overall the depth isn't very experienced but on the whole the group is very athletic, which is exactly the mold Pat Fitzgerald hoped to have when he took over as head coach. Look for names like Drew Smith, Jaylen Prater, and Anthony Walker, Jr. to play some good minutes backing up this group. The only issue could be if Ellis doesn't make a jump like it's expected and thus a really inexperienced group gets even thinner.
Secondary:
The headliner of this group is also one of the youngest players to start on this roster as our 2012 Big Ten Freshman of the Year, Nick VanHoose, will look to improve on a personally solid 2012 that saw him grab 3 interceptions, break up 7 passes all while recording 33 tackles and 3 sacks. Not bad for a debut and from a guy converting to the position from running back, huh? Look for his technique to catch up to his physicality in 2013 and that means opposing offenses will likely be looking elsewhere this upcoming season.
If that's the case then the Wildcats will need to find an answer and quick at the opposite CB spot. The good news is that there are some experienced options available, but the bad news is none of them stepped it up and claimed the spot to themselves this past spring. In the mix are C.J. Bryant, who played a lot as a nickel back last season, Daniel Jones, who went from sub to starter and recorded 33 tackles while failing to do much in the air as he didn't have an INT and only broke up 4 passes, and then there's redshirt freshman Dwight White who could wind up being a major player in the secondary when it's all said and done.
VanHoose isn't the only legit star in the secondary as safety Ibraheim Campbell is back after racking up 188 tackles over the past two seasons – an insane number for anyone in the secondary. He is a ball hawking safety, racking up 12 pass break up's last season to go along with 2 INT's. The only area that Campbell seems to have issues with is playing in space against deep post patterns and that has more to do with him being so aggressive on the ball. One way to help in that area will be having Traveon Henry in the backfield with him. Henry is a bigger safety who's coverage skills can allow Campbell to roam free to do what he does best.
Overall this group is deep and has options – something it hasn't had in the past and could be the difference maker in 2013.
Questions to Answer:
– Is there any depth behind the starters at linebacker?
– Can the DT's become more stout against the run?
– Who will take over next to Nick VanHoose?