Some may ask, how do you top perfection? Well for Ohio State it's doing the exact same thing – but this time they'd be eligible to play in their first ever Big Ten Championship game and a bowl game to boot – that's how you top it.
However, those who are thinking it was pure perfection would be the people who just see a perfect team record and weren't paying attention to what actually went on during the Buckeyes' 2012 season.
Yes, they won every game they played in and that's an amazing accomplishment, but one could argue that they used up all of their luck in year one of the Urban Meyer era, narrowly escaping in games against UCF, UAB, Indiana, Michigan State, and Wisconsin.
Not all was great for Urbs in year one and this spring he'll be looking square at his defense and hopefully the youth of the defense to allow this team to get better and get better quickly. So, what should we all be looking for in Columbus and then in Cincinnati, where they will play their spring game? Let's explore….
2012 Record: 12-0 (8-0 B1G, Leaders Division Champs*)
Bowl Game: none – postseason ban
Head Coach: Urban Meyer, 2nd year (12-0 at OSU, 13th year overall)
First Practice: March 5th
Spring Game: April 13th
The More Things Change….. Change is the name of the game along the front seven of the defense for year two of the Urban Meyer era. The defensive line must change all four starters and two of the three linebackers that started, plus a big time backup are all gone from last year. No doubt about it, the unit that was considered a strength of this team will have some big time changes to it and under Luke Fickle's direction it'll be interesting to see how this unit looks coming out of spring ball.
However, that's not the biggest change – that comes in the form of a change of venue for the annual spring game. Folks won't be flocking to the Horseshoe to see their defending Leaders Division champions (even though some self absorbed fans call themselves national champions). Instead they will flock to Cincinnati and Paul Brown Stadium. It's a brilliant marketing and recruiting ploy to say the least and playing in an NFL stadium is a nice treat for the Buckeyes players as well.
The More They Stay the Same….. As much change as there is on defense it's the exact opposite on the offensive end of things as that side of the ball returns 9 starters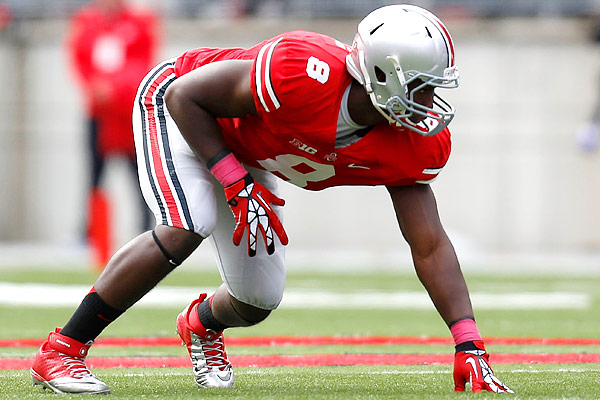 Let's Get Ready to Rumble: Defensive Line
Talk about a rumble… Well, that may be a bit much, but anytime you're replacing all of the starters up front on either side of the ball it's a cause for concern – no matter how experienced or inexperienced those players are. Making plays as a reserve is far different than being counted on to make plays and be the starter.
Luckily they do have some experience back, however it's also young experience as sophomores Noah Spence (DE), Adolphus Washington (DT), and Tommy Schutt (DT) all saw decent minutes last season. Can they step up and become full-time players in the trenches in just their 2nd year in the program? This team needs them to and it's what you and I should be watching for.
Joining the mix at defensive end will be two of the programs six early enrollee's in Tyquan Lewis and Tracy Sprinkle. Both are highly touted incoming freshman and their growth this spring will hopefully create the needed depth along a front four that will need them to be players out the gate.
Nothing to See Here: Running Back
When you return literally ever single player on your depth chart from a season a go and add in one of the bigger play makers that was slowed down by injury a season ago you've got to say it's a loaded position group. Well, that's exactly the case at running back.
Returning are leading rusher (for a RB) and touchdown machine Carlos Hyde, who ran for 970 yards and 16 touchdowns in 2012, along with his backup at the end of the year Rod Smith (6.7avg.) and most importantly a healthy Jordan Hall. Hall played in parts of 7 games last year, rushing for 218 yards on just 40 carries. He's slated for the "Percy Harvin" role and if healthy could be a major weapon.
If you want to look towards the future then you've got to watch redshirt freshman Bri'onte Dunn who was one of the most sought after RB's in the 2012 class. He could be the big time star of the future.
Name to Watch: Cameron Burrows, CB
Burrows is also one of the six early enrollee's and while the defensive ends in Lewis and Sprinkle will be asked to help add depth Burrows is one of the best at his position and the first player that committed for the class of 2013 as well. With the lack of great play from the secondary and the graduation of Travis Howard from this team Burrows could cement his place in the battle to replace him with a good spring.
No matter what happens watching Burrows' progression this spring will be key – he's clearly needed no matter if he starts or not.
Spring Is a Success If….. Youth makes a jump.
This team is going to be far younger than it was a season ago and that means sophomores and juniors that have no starting experience – especially on defense need to show they are ready to step up and play at a high level. If they do that this spring will be a success. If they struggle under the microscope or take a step back there's a lot of work that will need to be done by Meyer and Co. between now and Sept. 2nd.
Previous Previews: