Change is a constant in life, it happens to us all, but for those who chose to learn, adapt and grow from it they usually come out ahead. Well, following a blockbuster underdog win over Nebraska in the Big Ten Championship game change was on it's way for Wisconsin players, fans, and coaches in the form of Bret Bielema leaving for Arkansas.
Change was further cemented, at least for the Badgers defensive players, when Utah State's Gary Andersen became the new head coach. That's because along with Andersen came his defensive coordinator, Dave Aranda. Along with Aranda and Andersen comes their 3-4 defense – one built on being ultra-aggressive.
To say it's a welcome change may be a bit much, but it's a change that most have really embraced in Madison and by all accounts and my personal dealings with players it does seem that they've bought in hook, line, and sinker. The question is, can this change make a defense that was really good as it was even better?
One thing is for sure, this defense is the only one playing the 3-4 in the Big Ten and that could be the Badgers secret weapon in 2013. That and a roster chalk full of experience and stars in the making sure helps too. So, let us explore one of the Big Ten's biggest question marks… The Wisconsin defense.
Defensive Line: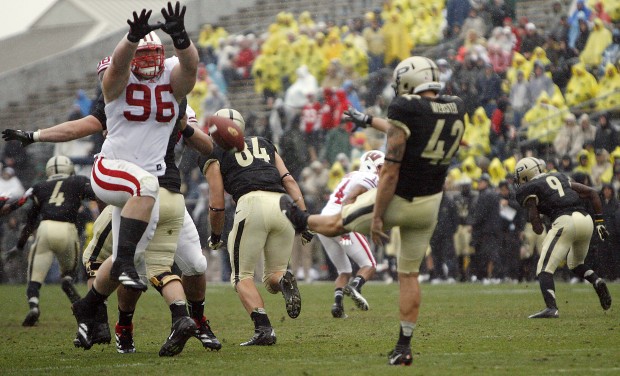 If there is an area of the Badgers squad that has zero questions on it, it's this one. Wisconsin returns everyone that started last season along the line, including all of those who were part-time starters due to injuries. The switch to the 3-4 defense sees a lot of changes across the board, but up front it could just be a matter of plugging the right parts in. Look for Beau Allen (a Honorable mention pick by media & coaches last year) to be a perfect fit up the middle with his size and athletic ability. He's one of the best interior D-Lineman returning in the conference as we stand here before you today.
He'll be flanked by his former partner on the inside, Ethan Hemer (Honorable Mention by coaches in 2012), who moves to end and could really be poised for a breakout season on the conference level at his new position. Last season he had 24 tackles, 2.5 tackles for loss, and a sack on the inside while starting all 14 games on the line – a feat no one else could accomplish. Opposite of Hemer is another vet in Pat Muldoon who was an end last season and has the power to play it in the 3-4 as well.
Truly, it's the depth and versatility up front that will allow this defense to make the transition smooth. Outside of the starters look for the likes of Warren Herring, Jesse Hayes, Konrad Zagzebski and redshirt freshman Arthur Goldberg to have a huge presence in the rotation. This unit is deep on experience to say the least and they'll need to draw on it to help a secondary that's adjusting to life without three starters. After all, a secondary's best friend is an effective pass rush.
Wisconsin will also be stacked for the future with incoming freshman Chikwe Obasih and Alec James as athletic outside pass rushers who could fit right into the mold of what Andersen is looking for from defensive end/OLB hybrids. Both could see time this fall if they can put on some weight and get with the program fast, but no matter what this unit is loaded for a long time to come.
Linebackers:
Speaking of pass rush, this could be the most dynamic part of the Badgers defensive corp. They will move former
end Brendan Kelly to a stand up pass rushing outside linebacker and take last season's breakout player, Ethan Armstrong (94 tackles last year), to the inside next to Chris Borland (1st team All-Big Ten by coaches, Honorable Mention by media). The guy to really keep an eye on is uber talented Vince Biegel, who redshirted last season following a foot injury.
He looks ever bit the part of a 3-4 outside linebacker already from spring and with a full camp to understand some of the more complicated schemes the combo of Biegel and Kelly outside could really cause some havoc. So to could Borland (our No. 9 player in our Preseason Top 25 list), who really showed a great ability to time blitzes last season as the teams only true linebacker to blitz.
The question around this group is if they have the quality depth on the outside to make it really work should something happen to the injury prone Kelly and the newbie Biegel. If something does happen to them look for Jake Keefer, a rising star in the spring, and Derek Landisch to be there to step into the mix. On the inside things are pretty deep with Connor O'Neill and Marcus Trotter ready to man the ship with their combined 49 games played (40 from O'Neill alone).
Incoming freshman Garrett Dooley is also a name to keep an eye on to get his feet wet this season. He's got good size and range as an inside linebacker of the future.
Secondary:
Welcome to the spot that no one knows what will happen with. Most that cover the Badgers for a living (myself included) had it all penciled out then the proverbial crap hit the fan just recently as Reggie Mittchell, who played with the No. 1 defense all spring at safety, and JUCO Donnell Vercher transferred (Mitchell's case to Pitt) or weren't admitted to Wisconsin (Vercher's case).
That leaves some massive depth and ability questions at safety next to the lone returning starter Dezmen Southward. Dezmen could be a star in the making at safety, especially with the new system in place that uses his athletic ability to the maximum potential. He was Honorable Mention All-Big Ten last season by both the coaches and media.
At the corner they'll be looking to replace two good options in Devin Smith and Marcus Cromartie. This is where things really will get interesting because it was expected that Darius Hilary and Peniel Jean would start at corner. However, Hilary may end up needing to move back to safety to plug that massive hole. It could also pave the way for the biggest standout of the Badgers spring game, Sojourn Shelton, to become an instant starter at CB.
Shelton doesn't lack in confidence to say the least and even if Hilary doesn't move expect him to be on the field often – he's that good.
So, who starts at the spot opposite Southward? Well, it cold be Hilary, it could be incoming JUCO Tekeim Reynard, or it could be one of three guys making a move from the offensive side of the ball in Kyle Zuleger, Jeff Lewis, and Isaiah Williams. However, I also wouldn't count out Michael Trotter or Michael Caputo (both have started games in the past) either. Point being, it's a total crap shoot at this point in time and making a pick just isn't fair. We haven't seen most of these guys with the No. 1 defense at all and it really depends on what happens with the corner spot and how reliable some of the younger guys can be.
Look for Devin Gaulden (actual playing experience), Hugs Etienne and Keelon Brookins (both freshman) to provide the depth at the corner spot. Overall though, this group has a lot to prove to the coaching staff and those of us who cover this team daily.
Questions to answer this fall:
– Who will actually become the starter at safety next to Dezmen Southward?
– Is Brendan Kelly the monster some think he will be?
– Just how good is Vince Biegel really?